F... U! FCOM
First release on F..U ! FCOM was late September 2004. In one year, thirteen 12? have been released, pick up by shops and djs for their playlists.
The label is only dedicated to traxx which make our ass move. The sound of the label is very influenced by Detroit spirit. We are now close to Christmas and you can have a look on all the releases available on vinyl but also as downloads on all the good sites. T-shirts are exclusively for sale on FcomShop.
First year of releases includes works by Djinxx, Vince Watson, Electric Rescue, Wake on Lan, Scan X, Markus Enochson or Rennie Foster... To give few names.
Early next year will be full of surprises with 12? by de Kobbé & Trish Van Eynde (Belgium), Hosh (Jori Hulkkonen) vs The Youngsters, Paul Nazca, Paul Mac, Chizawa (Japan) or Rodriguez Jr (aka Olivier from Youngsters).
More F? U! FCOM parties to come (especially in Tokyo late December) and surprise, some F? U! FCOM stickers. If you want some just send an envelop with stamps on it, so we can mail you some.
Enjoy!
ARTISTS LIST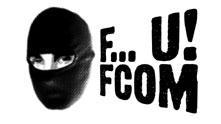 Links