Gong Gong
Gong Gong is a poem, an open minded duo amongst the flights of lyrical acoustic music, the unleashed freedom of post rock and the euphoria of electronic music.
With complex rhythm schemes, these two original propagandists arrange a delicate and funny music, scratched by abstraction. With in a rare melting pot of genre, Gong Gong immerses themselves in the imaginaries of recorded music. A band composed of bass and double bass, acoustic and electronic drums : an instrumental combo.
On stage, cable and machines encircle drums, a bass guitar and a double bass.
Two video makers are working behind the musicians, plugging them into an animated and magical world. Far from presenting a simple electro-video act, the band transcends all sound boundaries, drawing up their own map of images and sound.

Between sonic and visual performance, Gong Gong takes us on a ride with Brian Eno & David Byrne, Modeselektor, Prefuse 73and Tortoise.
Gong Gong, dreamlike duo.
A sensible and urban sound matter.
An abstract, lyrical, electronic and alive cutting.
An energetic and joyful intermixing, that draws from the candid imaginary of two activists of novelty.
Thomas Baudriller
Machines, bass, doublebass
Jean-Christophe Baudouin
Programmation, sampler, drums
ARTISTS LIST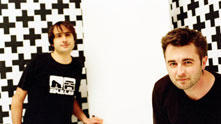 Links