Jori Hulkkonen
Born and raised in the middle of the cold war in the small industrial city of Kemi in the Northern Finland, Jori Hulkkonen wasn't excactly the prime contender for the position he holds today.
After eight artist albums, mix CDs, dozens of twelve inch releases for dancemusic's hottest labels and remixes for artists such as José Gonzalez, Goldfrapp, Newcleus and Cabaret Voltaire, Jori is widely regrded one as the most prolific and innovative producers around. Or as DJ mag put it, "Is Jori Hulkkonen the most underrated producer in the world?"
Producing music since the late 80's and after releasing his first records on his own Lumi-label in the early 90's, and then quickly signing 12"s to labels such as the Italian ACV, and Cari Lekebusch's Trainspotter's Nightmare and Hybrid, Jori signed his first album deal to Laurent Garnier's F communications in 1996 resulting the Chicagohouse and Detroittechno influenced Selkäsaari Tracks.
More albums followed on F communications: The Spirits Inside Me (1998), When No One Is Watching We Are Invisible (2000), and Different (2002). A bunch of singles and EP's add to the impressive body of work Jori has done on the label. Apart from releases on F communications there has been dozens of 12"s and even two albums on other labels and different pseudonyms. Most notable being the chart-smashing single Sunglasses At Night as Zyntherius, recorded together with the Canadian DJ-turned-superstar Tiga, for whose Sexor album Jori also produced and co-wrote material.
Although producing music has always been the number one priority, in the mid 90's Jori started working on creating a profile as a DJ. With a clear idea in mind what he wanted to present as a DJ, he's been consistent in his unique style of combining dancefloor aesthetics and flawless mixing. His DJing has taken him all over the world from Tokyo to São Paulo, Sydney to San Francisco, Dubai to Singapore, Moscow to Montrea andl Tel Aviv to Toronto, and obviously not forgetting Europe's finest clubs and festivals -and what's best, he's always been welcomed to return. Aside from Djing he has also played live eversince the first legendary F comm European tours in the mid 90's, and continues to pull out his live outfit occasionally even today.
And if that's not enough, Jori has been doing his own radioshow on Finland's national YleX (formerly RadioMafia)-channel since 1998, and still holds a ninety minute slot every other Tuesday displaying a wide variety of cluboriented music from the past and the future. Jori is also known to write for Finnish music magazines and newspapers.
2005 saw Jori releasing his most adventurous and ambitious record so far; the album Dualizm features vocal contributions from such people as John Foxx, Tiga, Nick Triani, José Gonzáles and Jerry Valuri, and is musically more versatile than anything he had put out so far. Consciously trying to avoid the more usual and more familiar approaches in terms of structures and arrangements, it was obvious he had chosen to take his musical journey to a direction less expected. Encouraged by the feedback on the poppier sound of some of the tracks on Dualizm Jori decided to push them further. The result was Processory; a collaboration with vocalist Jerry Valuri. Their selftitled debut album came out in early 2007 and combines shoegazing pop, rockabilly and electro -and everything in between.
ARTISTS LIST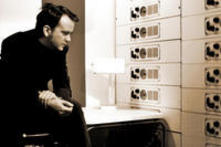 Links