The Youngsters
If you?ve logged on to The Youngsters website any time recently you?ll have seen the message ?The Army Is In The Egg? hovering over an egg painted with a half-seen Youngsters? logo. Could it be that these French techno pioneers have given up music for darker, militaristic pursuits. No. It was Oliver Mateu (26) and Gilles Escoffier?s (35) cryptic way letting people know they were in the process of making their third album, titled ?The Army Of 1.0?.
The Youngsters came into existence in 1999 after Olivier went into Gil?s record shop in Montpellier to play him some music he?d made. Gil liked it and suggested they team up; and the pair quickly embarked on a string of Detroit techno-influenced EPs for French labels G-Funk and Tekmic, before signing to Laurent Garnier?s F-Communication imprint in 2001. Intensely prolific, in the same year they managed to release four EPs and their debut long-player, ?LemonOrange?, an awe-inspiring collection of electronic beats. With suitably youthful energy given their name, they?ve never slowed down since, and have lately wowwed dance music with a heavyweight trilogy of singles, ?Confidential Music? volumes one to three (together another album?s worth of material).
The follow-up to ?LemonOrange?, ?The Army Of 1.0?, sees Gil and Olivier acknowledge their broad array of influences (Olivier remembers listening to The Beatles ?Strawberry Fields? at six-years-old ? hence the track ?Raspberry Fields? ? and being a fan of The Cure, Depeche Mode and Inner City; while Gil has been into everything at some point, from ?80s pop-funkers Shalamar to acid jazz and back). It?s a wide angle shot of the last 30 years of music that?s reflected in the diversity of the 12 tracks present. Sure, they?re all made with machines, but the term techno doesn?t do ?The Army Of 1.0? justice.
It?s an album that with the confidence to be varied: ?Place, Race & Face?, a fierce dancefloor assault with a message, features Gil on vocals and is firmly in the new wave of French techno mould (The Hacker, Oxia, Agoria et al); ?The Pink Sox? is three minutes of swooping orchestral strings that leads into the similarly string swept piano house of ?Café De La Poste?; and ?Southern Sulfuric? is short but sweet proof that The Youngsters can cut it when the tempo drops and the beats get blunted.
?It?s a deep exploration in the music that we love, with little bits of jazz, ambient, minimal and techno. But most importantly it?s a personnal vision of our techno universe. It's like if we?ve collected all our experiences on to one album.?
And Olivier wasn?t about to let a single idea slip through the net. ?I used to sleep with my laptop computer and a keyboard in order to catch any idea that might appear in my head during the night. I would prefer to sleep with a girl but I?m alone right now, so... But I?m discovering a new life, new music, and with the new tour (Gil and Olivier?s live show is renowned) there will be new meetings.?
Gil and Olivier: forever young.
Written by Chris Blue (JOCKEY SLUT)
ARTISTS LIST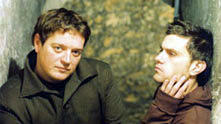 Links