Think Twice
Think Twice is a group that was born under the bombs. Through luck and love. Their only weapons are a voice, a computer and a bass. A trio developing a strange philosophy. The computer, who wants to settle scores with Bela Bartok, gave the voice an opportunity to keep on talking. The computer's rhythmic loops were already sheltering a gifted bass that liked recording in one take in the afternoon. The perfect match for a computer who only turns on when night falls. Without any second takes, in this impeccable well- oiled disorder, Think Twice became a half daily, half nightly group, a trio working in torchlight. This is not a "revival", this is not a "come back" it's just a straightforward association of ideas. The computer, the bass and the voice were born beneath a nightclub's glitterball, surrounded by people who danced by raising their arms. So, it's to the DJ, whose role in the group is totally functional, that Think Twice always dedicate the 12" singles from their tunes.
Original tunes now all grouped together on a mini album with an organic articulation. Don't ask the group why. Without an obvious and direct message, what do the bombs signify in "Under the Bombs"? It's as if Rocky IV went to dinner with John Cage and Bela Bartok finally got to jam with Miles Davis. "Bartok est un Tokard" (Bartok is a loser)? At least, there's a clue to the computer's childhood. The bewitching "ITWFM, the true story of a wannabe" is the voice's true story, no surprises there, it's a voice, but the bass has its own say on "Sluts", the real tribute of the album. Think Twice, a group without a clear sexual identity? It's not by making "Love Triangle's" that it's going to become clearer. Or by getting mad and angry like mutants from the 1970s in "Welcome To Your Future". You're better off crying over "Unemployed". The times are hard, Think Twice know this and give this tune the starring role in the album. We all know the horsemeat market is not doing too well. The best conclusion to this absurd world is maybe in "Analyse Me". If piano classes are traumatising and the music from the good ol' times reduces unemployment, Freud and Lacan keep on invading the planet. It is strongly recommended to read the instructions and observe "Three Minutes of Silence". The musician's secret song generally destined for the noble communion of souls.
It's a fact. It's a strangely contemporary sound, an obvious assemblage of the past given in disorder, without any worries of immediate coherency. It's a spontaneous and precarious balancing act between the mastery of the parts and the mystery of passion; it's a musical experience where accidents and typing errors are welcome. There is no formula, only stories to be told. Freedom is ours; now it's time to start talking in rhythm. A Think Twice gig is like a master class on the subject. A universe of onomatopoeia and thoughts told in music to change the routine. A music that is alternative and fashionable, sexual and domestic, lost between Spanish pop, Baghdad rock, Dubai punk and Argentinean rap.
E.P.
ARTISTS LIST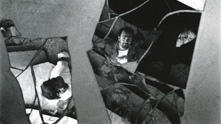 Links